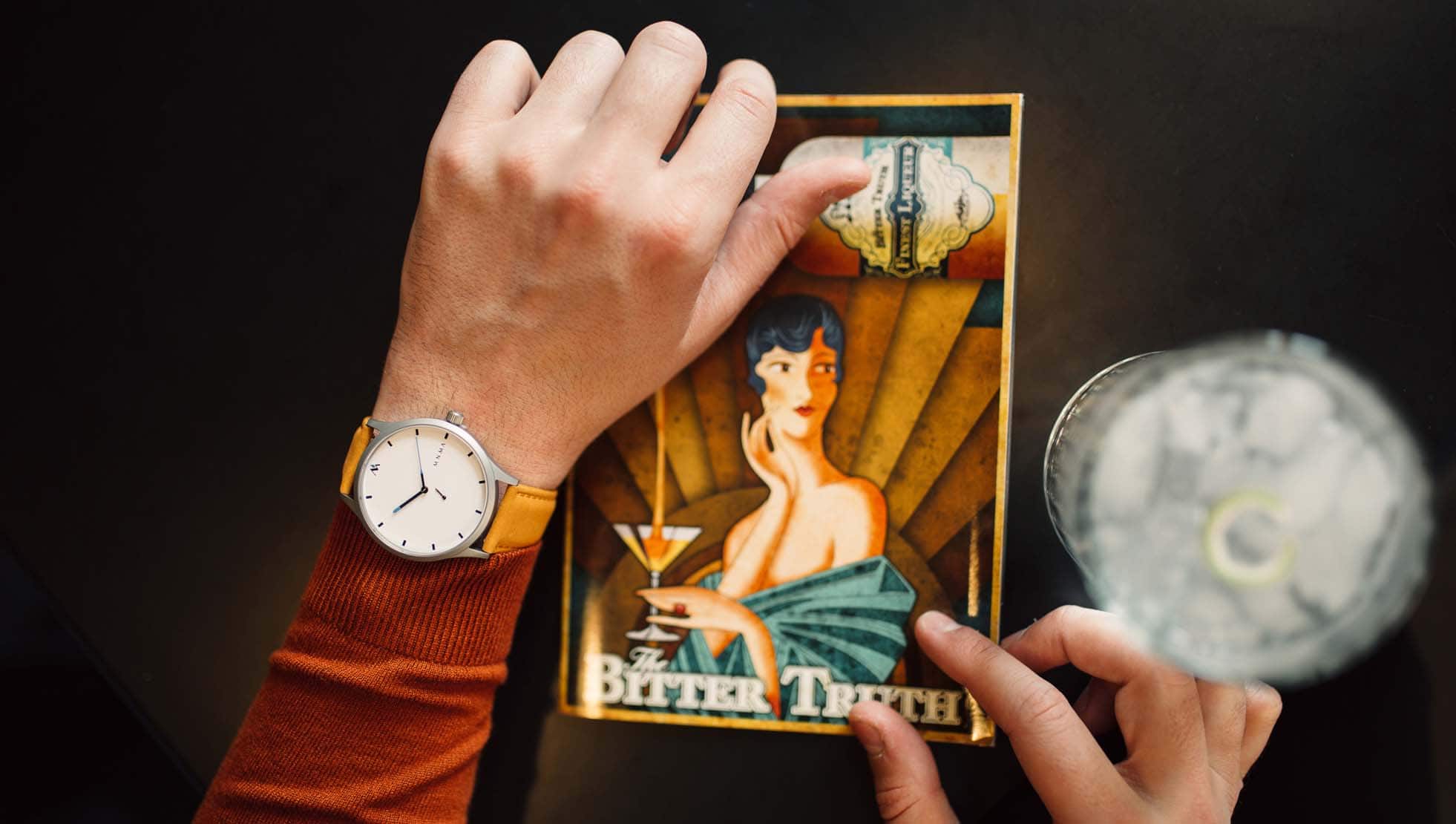 Sapphire crystal | Watch glass | Clocks | Scratches | polishing
Saphirglas Uhren oder Mineralglas als Uhrglas – Alles Wissenswerte in unserem Test- & Vergleich
You may know it from your own experience with different watch models which you wear or have worn yourself. The value of a watch is often significantly defined by the built-in glass. If you deal with the specified features when buying a new watch, you will notice that there are usually two different types of glass that are used in individual watch models. We're talking about Sapphire crystal and Mineral glass or various Mixed combinations whose – but where exactly are they differences and what glass is actually better?
This article is also available in German.
Sapphire crystal
With a scratch hardness of 9 on the Mohs scale of the German-Austrian mineralogist Friedrich Mohs sapphire crystal is close to the optimum hardness level that can be achieved with currently known materials. Only diamond with a reference value of 10 is even harder and immediately represents the upper end of the scale.
This is one of the reasons many watch connoisseurs swear by sapphire crystal watches these days. Although, strictly speaking, it is not made of a real sapphire or glass. The sapphire crystal, which came onto the market in the early 1980s, is obtained in its raw form from artificially produced corundum, which is relatively complex to manufacture, as several melting steps at different degrees at different speeds have to be used to obtain the perfect "sapphire crystal".
The subsequent processing step is even more difficult, as the crystals obtained are sawn into many thin "slices" for the manufacture of watch glass. If you have paid close attention, you should now notice that due to the hardness of the glass it can only be cut with diamond saw disks and even with this material it is not easy to fillet the sapphire, so that a lot of saw disks break, which in the end also explains part of the aspect of the higher production costs compared to mineral glass.
You are probably wondering why sapphire glass is called sapphire glass and not "corundum glass". This question can be answered by saying that a sapphire is a certain form of corundum and the name sapphire is used much more commonly than corundum in general.
In contrast to real sapphires, which appear slightly bluish, an artificially produced sapphire is colorless.
Despite the very good properties of sapphire crystal, it is not indestructible. You shouldn't drop your sapphire crystal watch too often. If the angle is unfavorable, it can happen that the glass breaks because the maximum tensile load is not up to the maximum pressure load. The tensile load on sapphire glass is approx. 1/10 of the maximum pressure load.
In concrete terms, this means that if pressure is applied to the glass from the front, the back is also always subjected to tension. If the tensile load is exceeded, the glass may break. This nominal weakness of sapphire glass also exists with the competitor "mineral glass", however, the maximum pulling force here is below that of sapphire glass.
It is important to know that sapphire crystal in its original form refracts light very strongly, so when buying a watch you should make sure that the sapphire crystal is anti-reflective on one or both sides. We recommend sapphire crystal with anti-reflective coating on one side, as the wristwatch loses its scratch resistance with sapphire crystal with anti-reflective coating on both sides and the greatest advantage of sapphire crystal is therefore no longer applicable. In the chapter "What to do if the watch is scratched? Correctly polishing sapphire crystal – care instructions "you will find out more about this.
Mineral glass
The long-running favorite among glasses is mineral glass. As the successor to the plastic glass that was once often used, it scored points as a solid alternative from the 1970s, including improved susceptibility to scratching. Mineral glass consists of silicon oxide ( SiO2 ), its chemical structure is closely related to that of rock crystal and various other types of quartz. In its simple form, however, it is above all similar to the well-known window glass.
A good wristwatch relies on hardened mineral glass, which is subjected to a chemical process for the purpose of robustness and scratch resistance, in which the resistance is generally significantly increased in the end. (The watch manufacturer Seiko uses this glass for its wristwatches under the name "Hardlex" – with a Vickers hardness of up to 950.)
Even after finishing, mineral glass does not compete with sapphire glass, especially in terms of scratch resistance, which is many times harder. Nonetheless, mineral glass also has some advantages, such as the fact that it is impermeable to water and cannot yellow and thus allows a long-lasting, flawless view of the dial.
Mineral crystal with sapphire coating
As the name suggests, this is a hybrid of the two types of glass. In these cases it is hardened mineral glass with an extra surface sapphire coating. In contrast to the expensive sapphire crystal production, this hybrid combination used to be much cheaper for the producer to manufacture.
The word sapphire glass in the name also suggested a higher product quality, although such a coating only has a marginal effect on the scratch resistance of such a hybrid glass.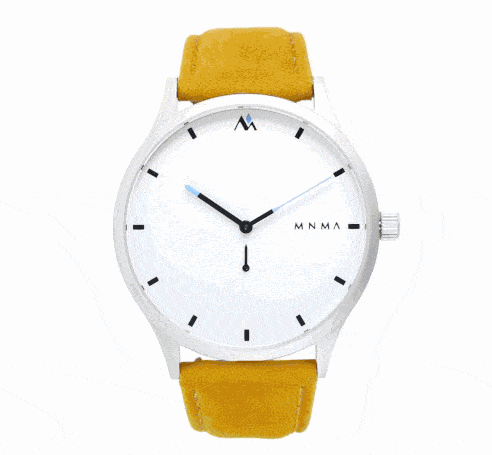 Acrylic glass (plexiglass, acrylic glass, hesalite glass)
Acrylic glass, which is also known as hesalite glass or plexiglass (both of which were once protected names for this type of glass from watch companies), is even more cost-effective to produce than mineral glass. On the other hand, when it comes to scratch resistance, it cannot hold water against the other types of glass and is therefore rarely built into watches.
A watch brand that partly relies on this glass for their watches is, for example, the German watch manufacturer "Junkers". (under the name hesalite glass)
The advantage or disadvantage of acrylic glass, depending on your preference, is that it is very light and minor scratches can be polished out relatively easily. The disadvantage of this glass is that it is easy to scratch as the scratch resistance is only 500 Vickers lies.
Comparison table sapphire crystal vs mineral crystal vs mineral crystal with sapphire coating
| | | | |
| --- | --- | --- | --- |
| properties | Hardened mineral glass | Sapphire crystal | Mineral crystal with sapphire coating |
| Scratch resistance | 4/10 | 10/10 | 5/10 |
| Break resistance (tensile force) | 3/10 | 6/10 | 4/10 |
| Manufacturing price | 8/10 | 7/10 | 6/10 |
| Refraction of light (non-reflective) | 8/10 | 5/10 | 6/10 |
| total score | 22/40 | 28/40 | 21/40 |
Table 1: Shows how many points from 1-10 for the respective properties the respective type of glass deserves in our opinion.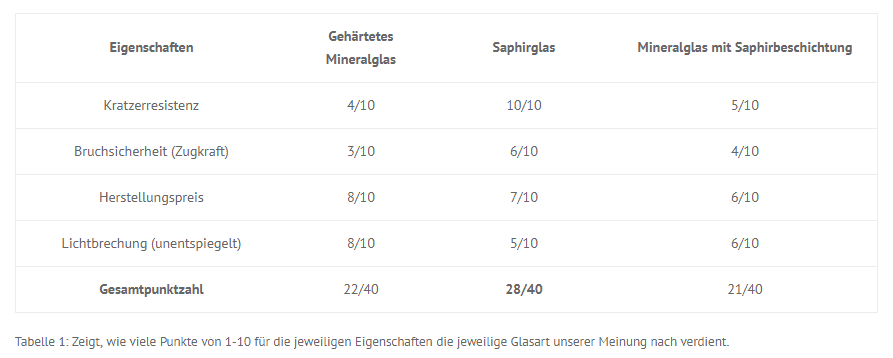 How can I recognize sapphire crystal?
It is very difficult to see with the naked eye which glass has been used in a corresponding wristwatch. One touches or taps on the glass, but it can be guessed on the basis of clues. For example, sapphire glass is usually a little colder than mineral glass at the same room temperature.
Tapping on the glass of the watch also provides further information about the built-in watch glass; it feels dull with sapphire glass and rather light with mineral glass.
Another test is the application of a drop of water to the center of the glass of the respective watch. If the drop keeps its shape, the probability is high that the sapphire crystal was used. If the drop loses its shape and runs away, you can be relatively sure that the wristwatch is made of mineral glass. See also the picture on the right, we once compared a MNMA Series 1 with real sapphire crystal with a watch from another manufacturer "only" has mineral glass as built-in glass – we find the difference clearly visible in comparison.
It becomes a little more difficult if a special coating has been applied to the top of the glass, for example for better readability. Due to the coating, the drop may run despite the built-in sapphire crystal, which is why we recommend the diamond tester method.
The last and safest method gives us the Diamond tester * , which is normally used to check gemstones for their authenticity. But it also works with watch glasses. The diamond tester checks the thermal conductivity of the glass. Sapphire glass differs in this regard, as it conducts heat very well, much more than any mineral glass.
In the first step, the tip of the device is heated to a certain number of degrees. The front end of the device is then pressed onto the watch glass, after which it is measured how quickly the tip cools. The various light points on the device show how strong the cooling is when touched and provide information about the thermal conductivity of the respective watch glass. Reliable ones are available from specialist retailers for a small amount.
Now let's see what to do if there are scratches on the watch.
Correctly polishing sapphire crystal – care instructions
A watch is a piece of jewelry and generally not a cheap accessory. Jewelry must be cared for so that it does not lose any of its shine even after a while.
Proper care for sapphire crystal is an important aspect and should not be neglected. Therefore, despite the degree of hardness, avoid corresponding impacts or friction on your watch. If you still see irregularities on the glass, it is usually other materials that disguise themselves as "scratches". You have the option of easily removing these potential "scratches" by buying a standard eraser.
If, however, the watch should have real scratches, it is difficult – but not impossible, to polish the scratches out again. For the craft professionals among us, it is an advantage if a Dremel * is present in household items. Buy it too Diamond grinding paste * with a 3000 grit and Polishing felt * , of course, all at your own risk. If you are careful and have some time and patience, the sapphire crystal will soon look like new. But if you do not have any knowledge in this area, it is advisable to go to the craftsman you trust or to have the glass replaced by the jeweler.
Important: Some manufacturers build sapphire crystal with an outer anti-reflective layer on the sapphire crystal. This AR layer serves for a better anti-reflective coating. But leads one of the main advantages of sapphire crystal to absurdity, the scratch resistance is lost.
You should do some research before buying whether your wristwatch in Spe has an outer AR layer and whether you want to keep it with an intended polish, as it will be abraded by the diamond grinding paste.
Say goodbye to scratches and get your sapphire crystal watch from MNMA now!
We put an end to annoying scratches on the watch. We use real sapphire crystal for our wristwatches for maximum durability.
In addition, each of our watches has 5 ATM water resistance, so that you can also wear them while showering, for example. The Sony battery inside increases the runtime by up to 12 months compared to a conventional battery. The very energy-saving Swiss quality movement from Ronda guarantees maximum precision with perfect running times. Write to us if you have any questions about us or our watches.
We have put all of our expertise into Series 1 in order to create a long-lasting watch series for you at an affordable price with very good components.
| | | | | |
| --- | --- | --- | --- | --- |
| Modell | MILA SUPERSTAR | MNMA GHOSTLIGHT | MNMA BISCUIT | MNMA LOOK A LIKE |
| Price | 149 Euro | 149 Euro | 139 Euro | 139 Euro |
| Watch glass | Real sapphire crystal | Real sapphire crystal | Real sapphire crystal | Real sapphire crystal |
| Movement | Swiss Movement from Ronda | Swiss Movement from Ronda | Swiss Movement from Ronda | Swiss Movement from Ronda |
| Case width | 42 mm | 42 mm | 42 mm | 42 mm |
| max Case height | 7,6 mm | 7,6 mm | 7,6 mm | 7,6 mm |
| Strap | Milanaise strap in black, interchangeable strap | Milanaise strap in silver, interchangeable strap | Leatherstrap (Genuine Rindsleather) in Senfgelb, interchangeable strap | Leatherstrap (Genuine Rindsleather) in caramel colors, interchangeable strap |
| Bandwidth | 22mm | 22mm | 22mm | 22mm |
| Hands | Fluorescent | Fluorescent | Fluorescent | Fluorescent |
| Waterproof | 5 ATM | 5 ATM | 5 ATM | 5 ATM |
The top 3 sapphire crystal watches are the editors' favorites
Since we also like other models in addition to our own watches, you will find our TOP 3 watch models with real sapphire crystal as an alternative.
3. PAUL HEWITT – Black sunray PH-C-BSS-5m

The mark Paul Hewitt comes from Oldenburg and has developed from a small startup to a global player through e-commerce since it was founded in 2009. The range includes not only watches, but also jewelry such as B. bracelets, cell phone chains, chains, earrings and rings, the typical anchor serves as a style-forming element. The watch models combine chic minimalism with a touch of elegance. The Black Sunray PH-CB-BSS-5M * " from the Chrono Line has a dark accent because it consists of a black mesh bracelet, black dial and black stainless steel case.
Read more

Conclusion:
The PH-CB-BSS-5M * is a robust, well-rated sapphire crystal watch without major weaknesses with its water resistance and of course the real sapphire crystal scores at a price of around 140 euros. (As of June 30, 2020)

What we like:

☑ Sapphire crystal
☑ Calendar function
☑ 5 ATM water resistance
☑ Well-known brand watch movements from RONDA, SEIKO, EPSON or MIYOTA
☑ Stopwatch function

Where do we still see potential:

– Second hand almost as big as minute hand, relatively difficult to read
– narrow hands
2. Fossil men's chronograph quartz watch fs5384
BERING is a Danish jewelry and watch manufacturer that has engraved purism, excellent workmanship and a long service life of the watches on its flag. The model ,, Classic – 14240-303 * " also comes in a slim design and is equipped with a blue Milaniase bracelet.
Read more

Conclusion:
With the Classic – 14240-303 * Bering has a hot iron with an ice-cold touch in the fire . We especially like the solid color of the watch and the discreet but in the right places details. The price for the watch is about € 125 Incl. VAT (as of June 30, 2020)

What we like:

☑ Slim design
☑ handling
☑ Sapphire crystal

Where do we still see potential:

– 3 ATM
– Unspecified quartz movement
– price
1. Casio wave ceptor men's wristwatch
The watch pioneer Casio * with the legendary Wave Ceptor * , is of course also included in our list. The very popular model comes in silver with a black dial and has an integrated solar function as a special treat.
Read more

Conclusion:
A real watch for real men. Casio lives up to its reputation as a global BigPlayer and gives the Wave Ceptor * many good components for a price of around 184 euros. (as of June 30, 2020) In addition to the good components, we also like the available solar function.

What we like:

☑ Hybrid analog digital display
☑ Solar function
☑ 5 ATM water resistance
☑ Sapphire crystal

Where do we still see potential:

– unspecified movement
– price
My conclusion in the watch glass comparison
Both wristwatches with mineral glass and sapphire glass have their raison d'etre. Buyers who value maximum durability, scratch resistance and the look and feel of a wristwatch will be happy with a sapphire crystal watch.
If the main focus is on the price of a wristwatch, mineral glass is a sensible choice to keep the overall price low, as the production is at a cheaper level.
You shouldn't necessarily rely on a clock with acrylic glass, unless the purchase price is less than 40 euros.
With the other properties of mineral glass, price-conscious buyers definitely get a solid glass base for their wristwatch, but in case of doubt they have to reckon with a new purchase rather than with higher quality glass.
In our opinion, the mixed combinations of the two glasses are no longer recommended these days, as the production is expensive and the production costs of sapphire crystal have decreased. Which largely outweighs the former advantages.
Much more reading material is available from us in the form of guidebook articles:
Looked in:
The links marked with an asterisk (*) are so-called affiliate links. If you click on such an affiliate link and shop via this link, I will receive a commission from the online shop or provider concerned. For you, the price doesn't change.
Letzte Aktualisierung am 2022-05-21 / Affiliate Links / Bilder von der Amazon Product Advertising API